TUITION FEES PER SEMESTER FOR FULL-TIME & PART-TIME STUDIES FOR INTERNATIONAL CANDIDATES IN THE ACADEMIC YEAR 2021/2022
The tuition fees are paid PER SEMESTER before the beginning of each semester. There are two semesters in each academic year.
Bank account details are below the table.
Image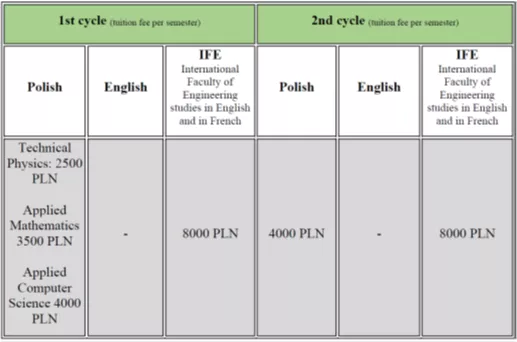 Details of Lodz University of Technology bank account:
Account name (beneficiary): 
Lodz University of Technology
Zeromskiego 116, 90-924 Lodz, Poland
Bank name:   
Bank PEKAO SA, II Branch Lodz
Piotrkowska 270, 90-361 Lodz, Poland
Account no:      
PL25 1240 3028 1111 0000 2822 2228 (PLN)*
PL23 1240 3028 1978 0000 2822 2273 (EUR)*

* only the payment for the 1st semester should be done to one of these accounts. Later on, as a student, you will make transfers to an individual bank account number.
SWIFT:            
PKOPPLPW
Payment title:
"Tuition fee" + student's full name + name of the faculty